I AM GLOWING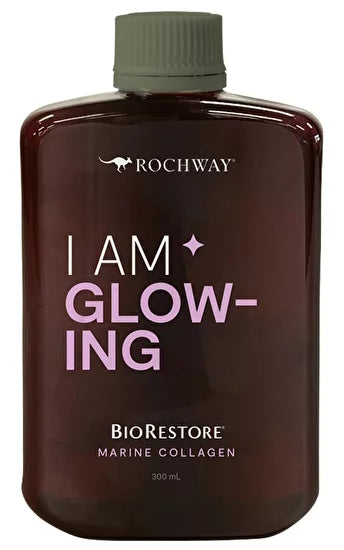 Every couple of months I am going to be curating some of my favourite products that are completely Australian made and owned! Something new you can add into your next order 😊 Lots of Love Courtney 💕💫

Proud to start with ROCHWAY BIORESTORE® MARINE COLLAGEN contains 2.5 g Marine Collagen per serve, plus antioxidant-rich berries to provide integrity and elasticity to the skin, helping to keep it firm, plump and glowing.
Rochway's unique BioRestore® process involves five stages of bio fermentation using multi-strain, gut loving probiotics, resulting in a more bio-available (easily absorbed) and bio-active complex to support healthy microflora and vibrant health and wellbeing.

Six strains of probiotics used in the fermentation process include: Lactobacillus acidophilus, Lactobacillus casei, Lactobacillus plantarum, Lactobacillus bulgaricus, Bifidobacterium lactis and Saccharomyces cerevisiae (boulardii).

INGREDIENTS
BioRestore® Bio-fermented Marine Collagen (Papaya fruit and leaf, Marine collagen, Maqui Berry, Blueberry, Acai Berry, Goji Berry), Glycerol, Citric acid, Wildberry flavour, Thaumatin. Free from sulphites, gluten, wheat, tree nuts, crustacea, eggs, lupin, milk products, mollusc, peanuts, sesame seeds and soybeans. Contains fish products. Vegan and vegetarian friendly.
DIRECTIONS
Mix 25mL with 200mL of water ( my favourite is sparkling water ) or any juice or smoothie! 
If pregnant or breastfeeding consult your doctor prior.
Not Suitable to children under 3 years.
We pack and ship your items within 1 business day of receiving your order.

Australian Shipping
All Australian orders ship for free via Australia Post's standard shipping. Delivery in Australia typically takes 2-6 business days from the date of shipping, depending on your location. Dirty Thirty Cosmetics ships from Perth, Western Australia. To get a time estimate for delivery to your postcode, you can check Australia Post's delivery calculator. Use Scarborough, 6922 as the 'From' suburb and postcode. If you need your sponges faster than this, we offer express post for $2.95 within Australia, available for selection during checkout.

International Shipping
International orders typically take 8-12 business days to be delivered. There is also an option for express international post at checkout.
To be eligible for a return, you must return your unused product in its original packaging and condition within 30 days of purchase. See more information 
here
.
Delish Collagen
I Am Glowing marine collagen is so damn delish!! I was sceptical as I've had other marine collagen before that left a weird ocean taste but this one is the BOMB!! Highly recommend and I think it's a great price! Came really fast in the post as well.
Drink w soda and ice